The number of new RQA members who join the Association each year. We currently have just over 2200 members.
The number of Committee Members in 2018, these volunteers help with everything from new booklets to conference organisation.
The Association is forty years old.
Who are RQA
The Research Quality Association (RQA) is a professional membership body dedicated to informing and advancing its members. We provide status and visibility for individuals engaged in the quality of research concerning pharmaceuticals, agrochemicals, chemicals and medical devices. Since our inception in 1977, the Association has increased and evolved to reflect regulatory changes, the growing impact of regulatory inspection and the ever-changing structure and needs of industry. RQA's purpose is to drive quality and integrity in scientific research.
Our Mission
1. To develop and promote quality standards in scientific research.
2. To facilitate knowledge sharing and transfer through:
Discussion
Training
Seminars
Forums
Conferences
Publications
Partnership and co-operation
3. To liaise with regulatory agencies in the development and interpretation of regulations and guidance.
Newsletter
Sign up to the latest news and events.
Brexit: EMA updates information for holders of centralised marketing authorisations
According to the European Medicines Agency (EMA), marketing authorisation holders (MAHs), applicants and sponsors of centrally authorised medicines for human or veterinary use should consider how Brexit will impact their medicines and which changes need to be addressed before the UK leaves the EU. They also need to ensure that the necessary changes are made by that date.
Brexit - UK Government update on implementation period
The British Government has issued technical information on what the implementation period means for the life science sector. This includes details on how the EU's new Clinical Trials Regulation (CTR) will be approached by the UK.
MHRA have joined government hub
From 18 June 2018 the Agency moved out of its Victoria location to a new, modern office in Canary Wharf. The relocation follows the establishment in 2016, announced by the Cabinet Office, of a new Government Hub for more than 5,000 civil and public servants in East London.
@THE_RQA
Aug 16
NEW JOB POSTED: Concept Life Sciences is looking for a QA GLP Lead Officer, based in Bradford. Click below for fu… https://t.co/dFvOzr2ojT
@THE_RQA
Aug 16
Are you looking for a consultant, look no further than https://t.co/TzI3hK5zLg https://t.co/ECesDdEOGz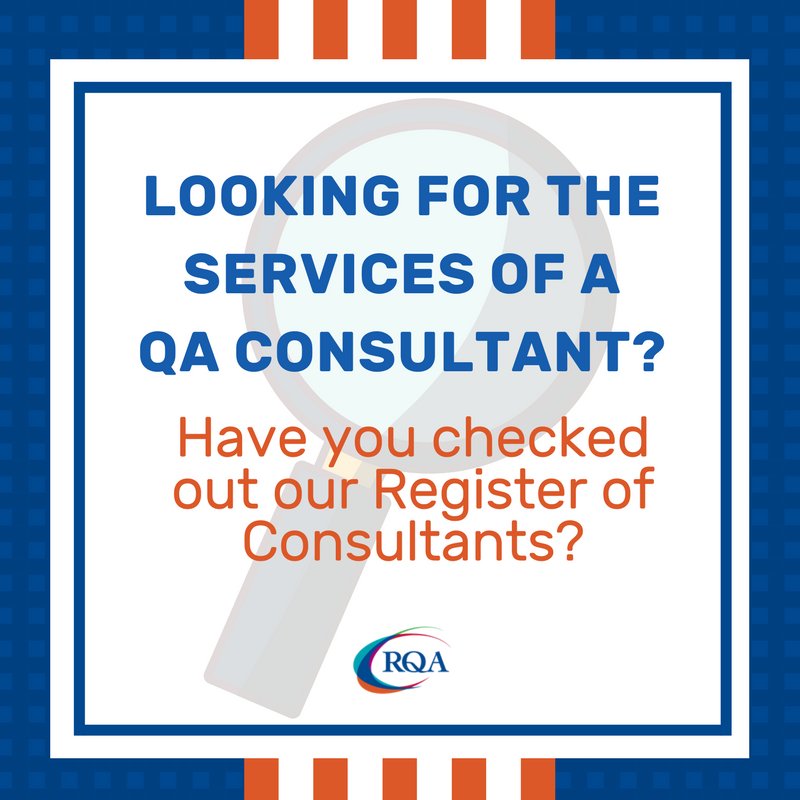 Kentford, Newmarket, Suffolk
Animal Health Trust
Central London
University College London Hospitals NHS Foundation Trust