Helena Paradell, Animal Welfare Senior Manager
Zoetis R&D Group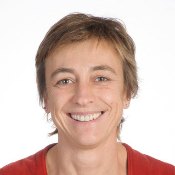 Helena Paradell is Animal Welfare Senior Manager at Zoetis R&D group located in Olot, Spain.
She is responsible for the institutions animal care and use programme which includes the management of the animal facilities, animal care and use and personnel training. She is also the institution's Designated Veterinarian and a member of the internal Animal Ethical Welfare Committee.
Additionally, Helena serves as an ad hoc Consultant for AAALAC International. Her expertise is in the management and inspection of all type of research facilities such as biocontainment units, isolation facilities and research farms. She has great experience in the care and use of several different research species, from rodents up to agricultural animals (such as ruminants, swine and horses). And a broad knowledge of the animal care and welfare standards and applicable regulations across EU.
Helena is a DVM and has an MSc in Pig production from the University of Aberdeen, Scotland. She is member of the board of the Spanish Society for Laboratory Animal Science.
---
Abstract
Auditing Research Animal Facilities
The proper care and welfare of laboratory animals is a MUST in all research institutions. Healthy and well-cared animals are a prerequisite for obtaining reliable and high quality data from research studies. As professionals we have the obligation to assess that research facilities are compliant with applicable animal care, use and welfare standards and regulations. The presentation will focus in the different aspects that QA auditors should review to guarantee that the facilities and the research work performed at the institution are aligned with the animal care and welfare standards.
A complete inspection of the institution's animal care and use programme should include all the activities that have an impact on the well-being of animals such as:
* Ethical review process
* Animal housing, accommodation and husbandry
* Veterinary care
* Research practices
* Personnel qualifications and training
* Occupational health and safety
In Europe, animal care and welfare standards are guided by European Convention ETS 123, Appendix A and Directive 53/2013. The implementation of the Directive raised some particularities in the different EU countries. However, the performance standard approach, professional organisations in the laboratory animal field (such as FELASA in EU or AALAS in the US) and international accreditation organisations such as AAALAC International play a very important role in the harmonisation of standards not only across Europe but also around the world.
This presentation is aimed to give tools for a complete inspection of animal research organisations to assure that study data is obtained from well cared and healthy animals, by well trained and competent personnel and under the umbrella of applicable regulations.
Share your experience on trustpilot.com